1,654 views
Added :
Category: DR Congo
Tags :
radio okapi en direct,radio okapi-93 5Bukavu,radiookapi net en direct
Description:
Description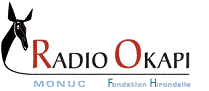 Okapi en direct radio live – listen online, and streaming, frequency, detail information. Radio Okapi  broadcasting onair on 95.3 Mhz and available online on internet from Bukavu with french language. Visit official website to get informations, dial, DJ profiles office locations and other informations related with radio Radio Okapi En Direct online radio haitian.
Website : http://radiookapi.net
About
Radio Okapi 95.3 101.7 Congo is a DR Congo-based radio station dedicated to Congo people at home and the Diaspora community.
Comment
FAQs
** Note :
You're listening to Radio Okapi En Direct. The radio should be listened fine. if its doesn't work. Try another browser. For some player need to install Media Player Plugin. If the radio still can not be player make sure:

You've installed the plugin.
The Radio Station may stop during midnight zone.
The radio is broken or offline.
Plugin not installed. Download Adobe Flash for your browser.