1,922 views
Added :
Category: Mexico
Tags :
la mas buena 102 5 en vivo,102 5 saltillo a la más buena,la mas buena 107 1 saltillo coahuila tel
Description: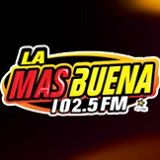 Radio La Más Buena 102.5 FM Saltillo en vivo
, encuchar radio Mexico en linea! Deliver variety specific genre programmes and offers a variety of music, entertainment, talk and news, broadcast live streaming from Saltillo, Mexico.
| | |
| --- | --- |
| Title | Descripstions |
| Name | La Más Buena Saltillo |
| Address | Saltillo Coahuila, Mexico. |
| Live On | 102.5 FM (http://www.mmradio.com) |
| | |
| Genre | Music |
| Short Information | La Más Buena 102.5 FM Saltillo is a music radio station based in Saltillo. The station broadcasts and commercials use Spanish language, and some music played with english. the radio is branch of Grupo Multimedios. One more station joins the more good chain of mexico from Saltillo Coahuila Mexico. XHSHT THE MOST GOOD 102.5 FM, joining already confirmed successes in cities like Monterrey (105.3) and Matamoros (107.1), with a programming based only on success and the only grupero-alternative style. With great coverage spanning all Saltillo, Ramos Arizpe and Artega THE MOST GOOD 102.5 will be a different and unique concept that reaches thousands of listeners in the region.Congratulations on a star over this great pillion chain. Listen to the radio La Masbuena live online. The radio have various specific programmes and offers a variety of entertainment, talk, and news. Broadcasting live from Monterrey (one of a local cities in Mexico). The radio speak with spanish language. Get the latest information all about your Lamas buena radio FM on the official website. Find the latest music song, album, and favourite music information from hip hop, pop, jazz, reggage, and another music. Get also information about the breaking news, talk, business, politics, sport, health, lifestyle, live streaming, and DJ profils . Explore science, tech, religion program & more, with videos & news (if the radio provide it, its deppend your stations. Contact your radio support to know it) Just exclusives on your favorite radio stations or stay with its frequency from your device. |
Saltillo is the capital of the state of Coahuila de Zaragoza, Mexico. It is located north of Mexico in the southeast region of the same state, 400 km south of the border with Texas, United States and 846 km from the city of Mexico.
Saltillo is the metropolitan region 19 in the country with 823.128 inhabitants, is a land of blanket and pulque bread region. Today it is a city that enjoys roads and bikeways.
Saltillo is surrounded by high mountains of the Sierra Madre Oriental to the shelter at sunrise and sunset; also has a small, forgotten village hill west of the city. Saltillo is in a penisísmica area, where there have been several earthquakes or tremors. The last was in February 2010 with magnitude 3.8 ° on the Richter scale.
In Saltillo first union between two people of the same sex performed throughout Latin America. This happened in January 2007 when two native women in Matamoros, Tamaulipas, joined by the Civil Solidarity Pact,
[quick-chat]
Comment
FAQs
** Note :
You're listening to La Más Buena 102.5 FM. The radio should be listened fine. if its doesn't work. Try another browser. For some player need to install Media Player Plugin. If the radio still can not be player make sure:

You've installed the plugin.
The Radio Station may stop during midnight zone.
The radio is broken or offline.
Plugin not installed. Download Adobe Flash for your browser.