1,299 views
Added :
Category: Mexico
Tags :
exa fm guadalajara en vivo,Exa Guadalajara,exa fm 101 1 guadalajara online
Description:
Description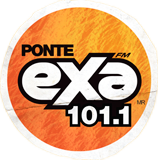 Radio Exa FM Guadalajara en vivo – listen online, and streaming, frequency, detail information. Radio EXA101.1 FM broadcasting on air 101.1 Mhz from Guadalajara and available online on internet from Av. Novelistas 5199 Jardines Vallarta with french language. Visit official website to get informations, dial, DJ profiles office locations and other informations related with radio Exa Guadalajara online Mexican.
Website : http://www.exafm.com/guadalajara
About
Radio Exa fm is a Mexican-based radio station dedicated to Mexican at home and the Diaspora community.
XHEXA-FM is a radio Exa FM is the radio station that formatted Spanish & English Top 40 (CHR). The radio serves Mexico City and from area the federal district. Broadcasting on 101.1 MHz, XHEXA-FM is owned by MVS Radio. The slogan of Exafm is Sobre Todas Las Cosas ¡Ponte Exa!. Started broadcasting on January 19, 1972, with the power 89,400 watts.
The radio have various specific programmes and offers a variety of entertainment, talk, and news. Broadcasting live from Mexico. The radio speak with spanish language. Get the latest information all about your tout radio online on the official website. Find the latest music song, album, and favorite music information from hip hop, pop, jazz, reggae, and another music. Get also information about the breaking news, talk, business, politics, sport, health, lifestyle, live streaming, and DJ profiles . Explore science, tech, religion program & more, with videos & news (if the radio provide it, its depend your stations. Contact your radio support to know it) Just exclusives on your favorite radio stations or stay with its frequency from your device.
Note
The radio streaming should be listened and work fine with any browser. If the radio can not be played. Please make sure that:
Your browser does not support the player. make sur you've installed the player plugin on your browser.
The Radio Station may stop during midnight according to its own country time zone. Check the timezone of radio.
The radio is offline. Contact the radio provider to get informations about the problem.
Comment
FAQs
** Note :
You're listening to Exa FM Guadalajara. The radio should be listened fine. if its doesn't work. Try another browser. For some player need to install Media Player Plugin. If the radio still can not be player make sure:

You've installed the plugin.
The Radio Station may stop during midnight zone.
The radio is broken or offline.
Plugin not installed. Download Adobe Flash for your browser.