1,799 views
Added :
Category: Colombia
Tags :
93 9 fm besame medellin,besame radio,emisora Bésame fm Medellín
Description:
Description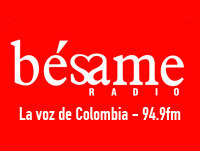 Emisora Besame FM radio en vivo- Listen online streaming, get the radio frequency & detail information. Radio Besame FM broadcasting on-air from Colombia with 94.9 FM frequency, its available online on internet live from based office in Medellín with spanish language. Visit official website to get more information, dial, DJ profiles office locations and other informations regarding to your  94.9 FM Besame radio FM online Colombian radio.
Website : http://www.besame.fm

About
Besame FM Radio 94.9 is a string of romantic stations Caracol Radio. The musical program is focused on the romantic Latin pop, classic ballads of the 80's, and other romantic rhythms. Initially featured stations in cities such as Cali, Barranquilla, Bucaramanga and Pereira, along with Medellin and Bogota. Currently, only subsist stations Medellin, Cali and Ibague; Medellin, classic ballad format is retained, while in Bogotá the format incorporating not only romantic ballads, but romantic romantic Latin pop and vallenato. The frequencies of the other cities were transferred to another company proposal, radio Julio Sánchez Cristo, known as W Radio (Colombia). Kiss it replicated in other African countries, with stations in Mexico, Costa Rica, Colombia and Panama. Kiss audience mainly focuses on the female segment of between 25 and 40 years. Since June 2013 the station in Bogota was reformatted to the Vallenato.
Comment
FAQs
** Note :
You're listening to Besame FM Radio 94.9. The radio should be listened fine. if its doesn't work. Try another browser. For some player need to install Media Player Plugin. If the radio still can not be player make sure:

You've installed the plugin.
The Radio Station may stop during midnight zone.
The radio is broken or offline.
Plugin not installed. Download Adobe Flash for your browser.